About us
Hoji is founded on the guiding principles of efficiency, quality and stellar customer support.
---
Hoji is an integrated mobile data collection and analysis platform. We provide software solutions for field-based surveys, Data Quality Assessments (DQA) and routine Monitoring and Evaluation (M&E).
We empower NGOs, government agencies and research consultants to deploy large-scale data collection projects within a few days. Our powerful, easy-to-use and professionally supported service allows them to focus on maximizing development impact, not tinkering with technology.
Development organizations that use high-quality data for evidence-based decision-making are able to optimize their interventions, maximize impact and demonstrate return on investment to both their donors and beneficiaries. As a result, they are able to mobilize more funding.
Hoji supports both online and offline data collection, large-scale cross-sectional and longitudinal surveys, as well as sophisticated data analysis, visualization and reporting.
Not sure if Hoji is for you? Please review our case studies. Better yet, why not download the app and take it out for a test drive? It only takes five minutes!
Mission
To close the gap between data collection and decision-making for NGOs and government agencies.
Vision
To be the leading mobile data collection and analysis platform for NGOs and government agencies.
Management
Gitahi Ng'ang'a
Managing Director
Gitahi is a graduate statistician and experienced software developer who spent over 6 years working for research and health informatics organizations. Over the course of his service, he helped develop informatics and data collection solutions for various projects. He is a passionate technologist, tenacious entrepreneur and armchair philosopher. At Hoji, he oversees business, product and talent development.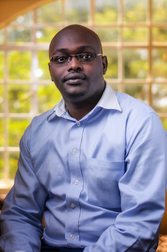 Collins Kiptoo
Operations Director
Collins is a CPA(K) and BA Economics graduate. He has more than 5 years experience in financial management, internal controls and business operations acquired in the real estate, telecoms and hospitality industries. He is a scrupulous accountant, dedicated businessman and indefatigable cheerleader. His primary role at Hoji involves managing day-to-day operations and keeping an eye on the bottom line.